DANZARAMA 2012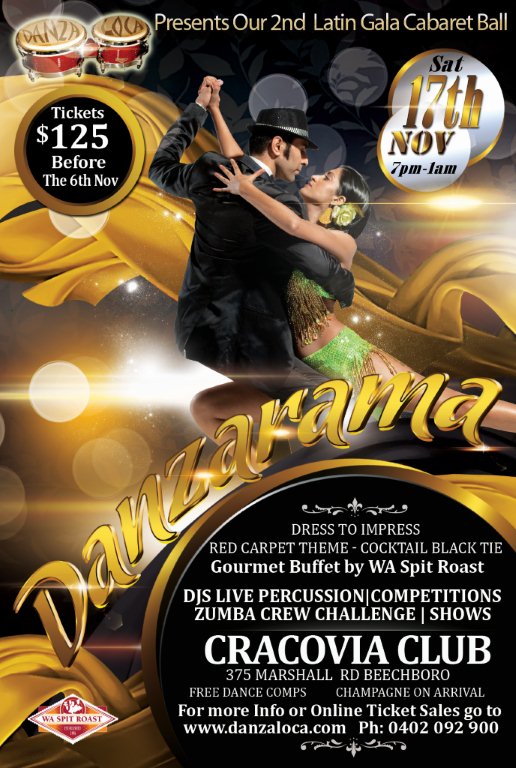 When: November 17th, 2012. (Doors open 6.30pm for 7pm start)
Where: Cracovia Club, 375 Marshall Rd, Beechboro.
Dress: Elegant/ Formal
DANZA RAMA is back November 17th!! For those who missed out last year, our first Danza Rama was a HUGE sellout. People love the "formal" Gala/Cabaret Ball format with activities and entertainment for our social dancing/Salsa crowd and our awesome Zumba fitness crew!
This year's programme is shaping up even better, as we learned a lot from our first function about creating the type of event that Danza Loca students will continue to enjoy and demand!
Danza Rama is still a cabaret, with professional and amateur dance performances and some friendly competitions, though this year we've simplified the programme to focus on more social dancing and party time with our DJ's and percussion crew.
We'll be dining from a sensational gourmet buffet and carvery from new sponsors, WA Spit Roast. Ticket price still includes Champagne on arrival and some table wines.
HOW CAN YOU BE PART OF DANZA RAMA? BUY A TICKET!
Buy a ticket from our online store or why not book a table through head office? Bring your friends and join the party! You can also enter our friendly social dance competitions on the night, and even be a part of the show!
DANZA RAMA TICKET PRICING:
Buy early to avoid disappointment and save money!
Earlybirds (before Oct 17th): $110
Regular (Full) price: $125
Late (after Nov 6th): $140 (required by caterers)
Tickets may also be purchased (cash only), at our Zumba and Salsa classes. Monies collected from classes will be receipted and your tickets emailed to you from head office for you to print. Tickets may be "Snail" mailed for those with no internet access if requested.
SOCIAL DANCE COMPETITIONS!
The competition structure this year focusses on maximum fun for social dancers. Only 7 friendly competitions are planned for Danza Rama. If you wish to participate in any of the competitions at Danza Rama you must REGISTER ON THE NIGHT (simple entry forms will be available on tables, to be completed and submitted to the Registrar. Male competitors will need to collect a number which must be worn while competing). There are NO FEES for entering the competitions. Adjudicators will be judging partnering skills, timing and Latin style.
COMPETITION EVENTS:
Non-Registered Couples* Events : (Any couples not registered as competitors with Dancesport WA)
1) Salsa Casino (Restricted): Up to Intermediate 2 level figures only.
2) Salsa Casino (Open): Open to all levels (Teachers, "pros" and registered dancers may also enter if desired, but only with an amateur or student partner.)
Jack and Jill (Juan y Juana) Events: Partnerships are randomly drawn from all entrants. No "Pros". No restrictions on steps other than mentioned in rules below.
3) Merengue
4) Bachata
5) Cha Cha Cha
6) Salsa Casino
Team Event:
7) Rueda Triples (teams of 3 couples each, calling their own Ruedas!). Pros ok!
Events are restricted to amateur entrants only, except for events 2 and 7. For the purposes of DANZARAMA we consider a "professional" or "non-amateur" as:
Social & Latin American dance teachers (Danza Loca staff or not)
Anyone who has received formal training toward becoming a dance teacher
Anyone who has received remuneration for teaching dancing, including paid assistants
Couples currently registered as competitors with Dancesport WA
Such individuals are considered to have an unfair advantage over regular dance students in regards to resources available for competition preparation.
For everyone's safety, 1 RULE is in place for ALL competitions: Lifts, tail (floor) spins and high back-kicks are not permitted. For the purposes of this rule, a lift is defined as any movement during which a competitor has both feet of the floor at the same time with the support or assistance of their partner. High back kicks are defined as when the entire back leg is raised higher than the knee of the supporting leg."
ZUMBA(R) CREW DANCE CHALLENGE!
WIN 3 MONTHS of FREE ZUMBA® CLASSES for YOU and YOUR CREW!!!
We are looking for crews of 3 or more Zumberas who want to choreograph and present their own
2 minute DANCE (not "Fitness") performance, vying for the main prize of 3 months FREE ZUMBA®!
• Each crew will perform separately to their choice of music.
• Music must be edited so as to not exceed 2.00 minutes.
• All crew members must be in motion for 80% of the routine.
• Each crew must use different music. In the case of 2 crews choosing the same song,
the second team to register must find an alternative.
Group entries will be judged on creativity, synchronization and entertainment value.
Register your entry by 5pm Friday , November 2nd so we can include you in the programme.
Teams need to register your team name, all members and provide a pre-recorded version of your intended music.